Recently I picked up the Hidrate Spark after I lost my trusty nalgene bottle while traveling. The magic of this water bottle is they have taken something super mundane (drinking water) and added a level of gamification that ties into your fitness goals. This water bottle has changed the way I drink water. I know that sounds a bit outlandish but stick with me 🙂 In this article I share what I like about this water bottle, what can be improved, and some of the cool features that I have become accustomed to!
So I must admit, I didn't think I would ever replace my trusty nalgene bottle. It was everything I needed. It was large, durable, and of course covered in stickers that made it my own. While I was traveling I clipped my nalgene bottle to a scooter as I cruised around Austin and when I got back to my hotel I realized I left it behind. It was gone, my trusty water bottle was gone and I needed to replace it. Enter the Hidrate Spark. I have been doing my best to try to track everything with my weight loss and a big part of that weight loss success has been attributed to water and making sure I get enough water on a daily basis. If you are also trying to track your water intake then look no further. Buy this water bottle now!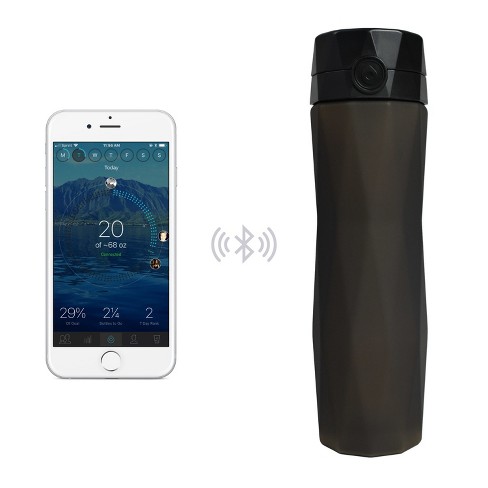 What makes the Hidrate Spark so unique?
The Hidrate spark has a few cool tricks up its sleeve. First and foremost it's a well-built water bottle that glows to remind you to stay hydrated throughout the day. The water bottle will also send you push notifications that can be a little snarky at times to remind you to drink water which makes me smile. The app that syncs with the water bottle does a great job of calculating how much water you need based on your weight, activity level, and local weather. The water bottle comes in plenty of colors and it holds about 24 ounces of water.
Basic Info about the Hidrate Spark:
Integrates with health and fitness apps

Compatible with Apple Health and Apple Watch, Fitbit, Google Fit, Nokia Health Mate, Under Armour Record, MyFitness Pal, MapMyFitness

The bottle glows to remind you to stay hydrated
24 ounce capacity
Battery operated (watch battery CR2032)
BPA-free plastic
Dimensions (Overall): 10 inches (H) x 3 inches (W)
Dishwasher-safe (except the electronic parts)
There really isn't too many negative things I can say about this bottle at all. Full disclosure, when I purchased this water bottle I fully intended to not like it and give it to my wife. Alas, 3 months later I still take it with me everywhere. None of the negative things I list below are really that big of a deal but they are things that could be improved on in future versions.
Dis-Likes
Weak Tether
When I travel, I clip my water bottle to a lot of things. When I get to the airport it is clipped to my bag. When I am in the lounge grabbing food and need to fill it up it is clipped on my pants. When I get on the plane I clip it on the back of the seat. All of that being said, I need to feel comfortable with the tether on my water bottle. I don't get that warm and fuzzy feeling with the tether on the Hidrate Spark. It has not failed me yet, but the thin string is a few rubs away from me losing my water bottle. I just don't feel as confident in the strap as I did on my nalgene bottle.
Price
This is by no means a cheap water bottle, I have seen prices ranging from $40 – $55. I am by no means saying that it isn't worth every penny but at that price I think it is hard for people to commit when you can get a nalgene or any other water bottle for around $20. I think $30 is the sweet spot for this water bottle.
Warranty
I hardly ever use warranties but one thing that I thought was a bit unique was the fact that the water bottle only has a 100 day warranty. If I am spending money on a premium product I would hope that the company would stand by the product for longer then 100 days. I haven't had any issues yet and I will update the post if I run into any!
Likes
Obviously, I really like the water bottle as a water bottle there isn't much to talk about there so all of my likes revolve around the mobile app that you interact with daily. Also, it is worth noting that you don't need to have the Hidrate spark to use the water bottle, you can download the app for free if you want a really good app to track your water intake.
Ease of use
The app is available for both IOSand Android and it doesn't cost a dime. The app has a simple interface that allows you to see where you are throughout the day and also see historical data for water consumption. The bottle automatically syncs when the top is closed but you can also manually add water if you pick up ice water from Starbucks or drink that free bottle of water you get in your hotel room.
Syncs with popular fitness apps
Apple health and UA Record are my two go-to apps to track my health and exercise and both are supported with the Hidrate app. I am a weirdo that likes to track everything and have it all in one place so thank you to the folks over at Hidrate for catering to my nerdy data side.
Notifications
I am an anti-notification kinda guy but I am so glad I allowed this app to send me notifications. Throughout the day, if you are lagging behind your goal expect to get a notification that will make you smile. I know this doesn't sound like a big deal but I feel like I would blow off a notification if it just told me to drink water but the clever notifications that the app sends have a different effect and I found myself actually drinking more water because of them.
Overall this water bottle is definitely worth the investment. The convenience of auto tracking your water intake, push notifications, and syncing with popular health apps makes it a no brainer if you are wanting to drink more water and stay hydrated throughout the day.
You can buy this water bottle on amazon as well as directly from the Hidrate website!
TLDR (To Long Did Not Read)
Likes:
The app is free and easy to use
Syncs with Apple Health and UA Record
Notifications based on activity
Dis-likes:
Thin tether cable
A little pricey
Warranty is only 100 days